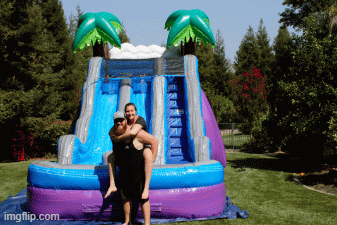 Jump or Slide Rentals is a small family run business founded in 2021. We started with our mission to start an event rental company that could not only provide fun inflatable units for whatever event you may be having, but to also provide something more to those in need. We commit to giving 10% of all proceeds to children in need through some of the amazing charities located right here in the Sacramento area. Book with us, knowing that as you laugh and smile with those around you, you are also helping provide something better for your community. If you ever have suggestions on charities you would like to donate to please reach out to us.
Frequently Asked Questions
Q.
What do I need the day of my event?
A.
We will do all of the heavy lifting for your rental, but we will need a few things from you. On the day of rental you will need to provide us with an outlet and extentsion cord within 50ft of where the rental unit will be placed. If you rent a slide that will need water, you will also need to have a hose ready that can reach your rental unit.
Q.
Does the price include set up and delivery?
A.
Yes, for most locations in the greater Sacramento and Foothills area delivery is free. There may be additional fees for areas farther out. If you are concerned about delivery, please feel free to reach out to us.
Q.
What is the standard rental time?
A.
For a standard days rental we will drop off between 7-9AM and pickup between 5-8PM. We also offer overnight rentals for only 20% more if you want to bounce all night!
Q.
What payments do you take?
A.
We accept Cash or Credit Card payments. If paying by cash, please have exact change as our drivers do not carry cash.
Q.
What if we need to cancel?
A.
You may cancel anytime leading up to the day of your event. If you cancel within the 7 days prior to the event, we will retain that Minimum Payment in a Raincheck, good for one full year toward a future event. If you cancel before the 7 days leading up to the Event, your full balance can be refunded or placed in a Raincheck, whichever you prefer.
Q.
Do you require a deposit?
A.
We require a $100 deposit to secure one of our inflatable for your event. The final amount will be due at the time of drop-off.
Q.
What surfaces do you set up on?
A.
We can set up on a variety of surfaces grass, concrete, asphalt. If you have any questions on where you plan to set yours up give us a call.
Q.
Are we responsible for the unit if it gets a tear or damaged in any way?
A.
Yes and no. You are not responsible for normal wear and tear on our units. Seams may develop tears in high traffic areas over a period of time. If this happens, please alert us at once so we can remedy the situation. If however, damage occurs due to failure to follow our safety rules or negligence (i.e. not turning off the blower in high winds) you will be responsible for all damages up to and including replacement of the unit/blower etc which can cost thousands of dollars. We don't want you or us to be in that situation which is why we have you sign and initial on all of our safety rules so that you can be the trained operator. If you are concerned you can also purchase our damage waiver at checkout.
Q.
What is your rain policy?
A.
We will call you 48 hours before your rental. If you choose to cancel, we can reschedule your event or refund you your money. If you choose to cancel after our courtesy call, but before we drop off your slide we will give you a rain check that is good for up to one year.